Kremlin and White House announce details of Helsinki summit after Trump repeats Moscow's claim that it did not meddle in US election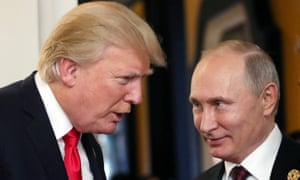 The optics of the meeting are likely to be as important to the leaders as its results. Moscow is keen to show it is not isolated on the world stage, while Trump has ignored criticism at home to plot a course towards closer relations with Putin.
An amicable Trump-Putin meeting could also cast a shadow back on the US president's visit to the UK between the Nato and Helsinki summits, particularly if his encounter with Theresa May is as frosty as recent exchanges between the US and British leaders.
Before the announcement on Thursday, Trump sent out an early-morning tweet once more calling into question the conclusion of the US intelligence agencies that Russia was involved in the hacking of Democratic National Committee emails during the election.
Arms control and other security issues are likely to be among the main topics of discussion, although both sides have already played down the potential for the meeting to deliver concrete results.
The announcement of the meeting – only the third time the two leaders will have met face to face – was made simultaneously by the two governments on Thursday as part of a carefully choreographed rollout.
Nevertheless, the encounter is likely to generate controversy in the US, where establishment politicians have questioned Trump's motivations and the optics of holding a meeting with a power accused of meddling in the 2016 US presidential election.
Russia and the US have clashed over a number of issues, including the conflicts in Syria and Ukraine, nuclear arms treaties, Nato policy and cybersecurity. Relations between the countries are widely seen as at their lowest point since the cold war.
On Wednesday Putin told Bolton that while relations between the two countries were bad, "your arrival in Moscow has given us hope that we can make the first steps to reviving full relations between our governments".
Trump and Putin have met twice before. The first time was during the Hamburg G7 meeting in 2017, ending in a dinner chat between the two leaders with only a Russian translator present. Trump said afterwards they had discussed adoption policy. The two also proposed a joint cybersecurity unit, and a ceasefire in south-west Syria. The cyber unit was immediately dismissed in US as ridiculous as Russia was one of the main aggressors in that field, and the Syria ceasefire has been bulldozed in recent days by a Russian-backed Assad offensive.
The pair also greeted each other at a leaders' summit in Vietnam in November.