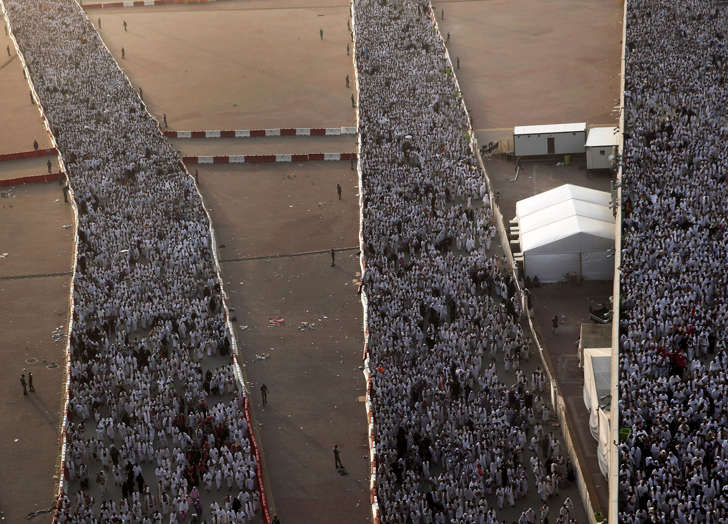 © Ahmad Masood/Reuters Muslim pilgrims walk on roads as they head to cast stones at pillars symbolizing Satan during the annual haj pilgrimage in Mina on the first day of Eid al-Adha, near the holy city of Mecca September 24, 2015.
At least 150 people were killed and 400 hurt in a stampede of pilgrims Thursday in one of the worst incidents in years to hit the annual hajj in Saudi Arabia, officials said.
Saudi Arabia's civil defence service released the toll and said rescue operations were under way after the stampede in Mina, where almost two million pilgrims were taking part in the last major rite of the hajj.
It was not immediately clear what had caused the stampede.
Pilgrims had converged on Mina just outside Mecca on Thursday to throw pebbles at one of three walls representing Satan, the symbolic "stoning of the devil" that marks the last day of the event.
© Directorate of the Saudi Civil Defense agency/AP Photo In this image posted on the official Twitter account of the directorate of the Saudi Civil Defense agency, rescuers respond to a stampede that killed and injured pilgrims in the holy city…
The world's 1.5 billion Muslims were on Thursday marking Eid al-Adha, the Feast of Sacrifice, the most important holiday of the Islamic calendar.
The hajj is among the five pillars of Islam and every capable Muslim must perform it at least once in a lifetime.
In the past the pilgrimage was for years marred by stampedes and fires, but it had been largely incident-free for nearly a decade following safety improvements.
Preparations for this year's hajj were marred when on September 11 a construction crane collapsed at Mecca's Grand Mosque, Islam's holiest site, killing 109 people.
In January 2006, 364 pilgrims were killed in a stampede during the stoning ritual in Mina.
[
AFP /
MSN News]