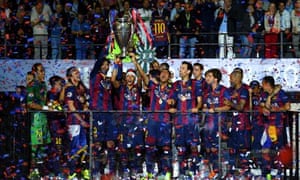 Match stats
Possession
Goal attempts
Corners

8
6

Fouls

20
7

Offsides

1
0
And here come the new European champions. Taking over from Real Madrid ... Barcelona!
Luis Enrique - what a first season he's had as manager! - is the subject of a bear hug from Platini. Once all the players have taken their place on the podium, old big ears is handed over to Xavi, whose last act of a long, storied
Barcelona
career is to lift the European Cup! Down comes the ticker tape, and it's party time in Berlin for Barca. Let's leave them to it as they bounce around the Olympiastadion pitch, taking a look at their new exalted place on the roll of honour:
10: Real Madrid
7: AC Milan
5: Liverpool, Bayern Munich, Barcelona
4: Ajax
At the rate Barca are going - it's four wins in ten years - Real and Milan will looking nervously over their shoulders. Good night and sweet dreams, everyone!