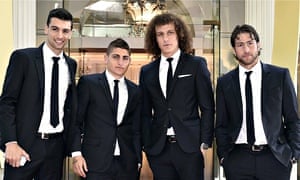 Photograph: Franck Fife/AFP/Getty Images
• Qatari-owned PSG's average salary now the highest in world sport
• Football clubs make up four of the top five, alongside LA Dodgers
Paris Saint-Germain's Javier Pastore, Marco Verratti, David Luiz and Maxwell – part of world sport's best-paid squad.
Paris Saint-Germain
are paying a higher average wage than any other club in any sport worldwide – with football clubs making up four of the top five positions in the salary table.
The Qatari-owned PSG's average weekly wage – £101,898 – makes them sport's biggest spenders, ranking them above Real Madrid (£96,933), last year's top-ranked Manchester City (£96,445) and Barcelona (£90,675). Major League Baseball's
Los Angeles Dodgers
(£89,999) complete the top five.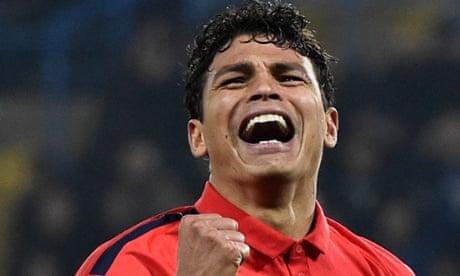 How does PSG's record wage bill compare with the world's biggest teams?
Read more
The annual
ESPN/SportingIntelligence Global Salary Survey
, now covering 333 teams from 17 leagues in 13 countries, was first produced in 2010, at which point the New York Yankees topped the rankings.
Now, eight of the top 12 in the list are football teams, three come from baseball and one from basketball – though the NBA remains the top paying league as a whole, with players averaging £2.67m annually. The average per player in England's Premier League was £2.23m during the period under review.
Four of the top 12 teams are based in the US, four in England, two in Spain and one each in France and Germany.
The lowest average wage in the list of 333 teams was that of Ross County – their £692 weekly average 25 times less than that paid by Celtic.
How they rank: sport's top 12 average weekly wages
1 Paris Saint-Germain, Ligue 1, £101,898
2 Real Madrid, La Liga, £96,933
3 Manchester City, Premier League, £96,445
4 Barcelona, La Liga, £90,675
5 Los Angeles Dodgers, MLB, £89,999
6 Manchester United, Premier League, £89,988
7 Bayern Munich, Bundesliga, £85,935
8 Chelsea, Premier League, £83,713
9 New York Yankees, MLB, £81,992
10 Arsenal, Premier League, £77,963
11 Brooklyn Nets, NBA, £70,102
12 Detroit Tigers, MLB, £69,633